WE TESTED
OVER A DOZEN
FORMS OF HOOK AND LOOP
FASTENERS
EXPERIMENTED
WITH HUNDREDS
OF STITCHING
PATTERNS
WE TRIALLED
13 DIFFERENT
MATERIALS FOR
THE COOLING MESH
OVER THE PAST 18 YEARS
EXOGEN® HAS SEEN OVER
34 ITERATIONS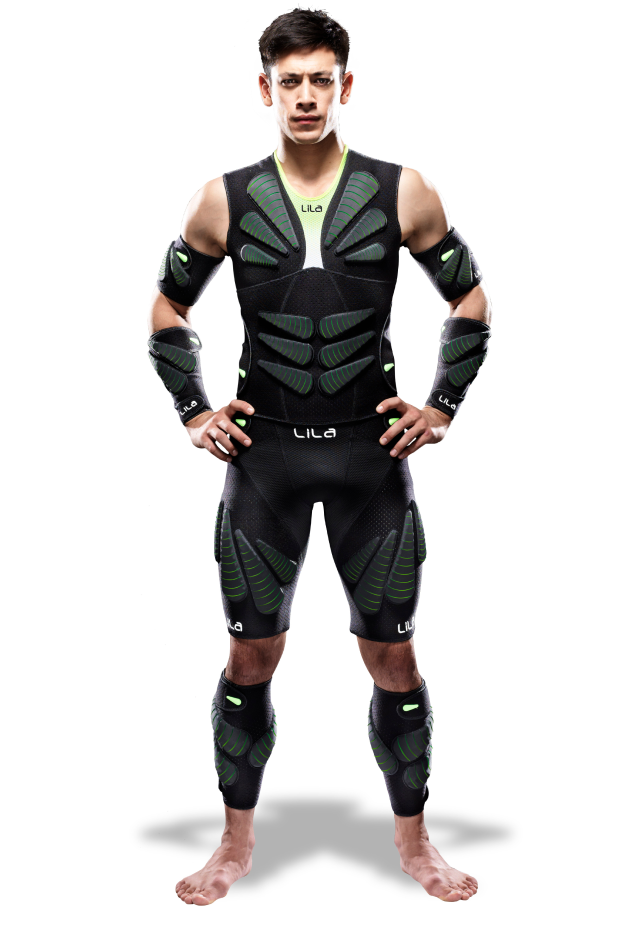 12 ITERATIONS
of cooling micro-perforations
32 ELASTIC
MATERIAL BLENDS
WERE TESTED
EXOPRENE®
TESTED WITH
SINGLE, DOUBLE,
TRIPLE,
QUADRUPLE
LAYERS.
40 DIFFERENT
DESIGNSOF THE
FUSIFORM® LOAD
IT'S WHY THESE ELITE ATHLETES TRUST OUR PRODUCT
Our roster of customers includes many of the world's top sport teams and programs including the Golden State Warriors (NBA), Minnesota Vikings (NFL), San Francisco 49'ers (NFL), Paris St Germaine FC (Ligue1), The New Zealand All Blacks, Star Athletics and Canada and USA 4x100m teams.
While training elite sprinters for Athens Olympics 2004 and watching them struggle with technique pulling heavy sleds: The idea of Wearable Resistance is born.
First Olympics: Our first prototypes of a wearable resistance garment were used for training elite Malaysian badminton players in preparation for Athens Olympics 2004​.
Prototyping to Proof: Germany Athletics offer to buy our wearable resistance prototypes in preparation for World Championships 2008. There is something here worth pursuing!
Time to jump. The decision is made to form Sportboleh Sdn Bhd the company to develop the technology, originally called POWERAPS and start business planning​.
Our first patents filed on "the exoskeleton system"​. The complete wearable resistance garment and loads.
Pre-Commercial wearable resistance designs and major technical features are tested and validated with our co-founders and in-house research team in conjunction with National Sports Institute of Malaysia​.
The Fusiform® muscle-fibre pennation inspired microloads are born and patented. We also received our first "Cradle Grant" for technology development from the Ministry of Finance Malaysia​.
The LILA® brand and Exogen® Wearable Resistance product line are officially born. LILA the ancient Sandskrit word for 'God at play' and Exogen (Exoskeleton Generation 1) are adopted and we can finally say goodbye to Poweraps. ​
Our first sale! Golden samples are market ready. We engaged with elite programs and athletes globally: New Zealand All Blacks, Lee Chong Wei, Nicole David, High Performance Surfing Australia, Spartan Obstacle Racing and the NHL. Exogen® wins "Best New Product Technology Award 2015" and Lila® wins "Best Pitch Award" for new investors.​
Signed global research partnership with Auckland University of Technology – Sports Performance Research Institute led by Dr. John Cronin as Head of Research for wearable resistance. We publish our first peer reviewed journal article on the Benefits of Exogen for Elite Weightlifters.
Secured USD2M Series A financing. Exogen® now has sales. Signed our first major research collaboration with Paris St Germaine FC Performance Lab​
Exogen® reaches customers in 40 countries across five continents, men and women aged 11-75. ​
Reached 30 peer reviewed journal articles on Exogen® and wearable resistance. Signed elite customers: NBA Champions the Golden State Warriors, Minnesota Vikings, LA Angels. Entered our third research partnership with UFC Performance Institute.
Canadian-born and educated, with an enviable 35-year career in sports science, high performance coaching and conditioning training across the globe, Joe has had the privilege to rub shoulders with some of the greatest athletes in history. His passion for human movement and innovation has been forged and nurtured through his work with many of the world's top sporting programs including the NBA, NFL, NHL, Major League Baseball, the English Premier League, UFC, World Rugby, Track & Field, PGA and ITF. Over 9 Olympic cycles, Joe has prepared and trained countless elite athletes in Canada, US, UK, China, Malaysia, Australia, New Zealand and Argentina.
As a futurist with a unique perspective on human movement and adaptation to training, Joe conceptualised, developed, and launched Exogen®, the world's most advanced wearable resistance. The flagship product of Lila®, Exogen is rapidly gaining ground as one of the most significant advances in specific coaching, technical conditioning, movement correction and speed training for sport, rehabilitation and fitness.
Joe splits his time between driving Lila and consulting elite sport and athletic programs on the integration of Exogen.
Reach out to Joe on Instagram, Twitter, or YouTube.